Borgo Panigale , 2015-06-23
• The Vienna University of Technology has presented Ducati and Dainese with
the Professor Ferdinand Porsche Award
• This is the first time a motorcycle has won the sought-after award, which
celebrates engineering excellence in the European automotive industry
• The Multistrada 1200 S D|air underlines Ducati's constant commitment to
improving safety and the 2015 version will be available only in Europe, from
the end of July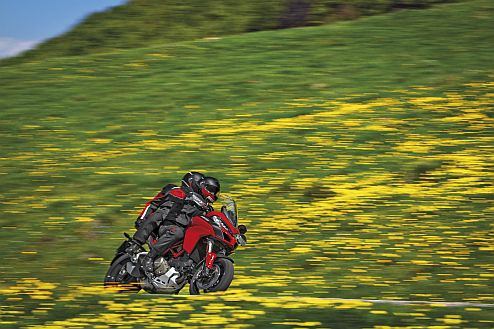 The University of Technology of Vienna (TU-Wien) has awarded the Ducati Multistrada 1200 S D|air with the prestigious prize named after Professor Ferdinand Porsche. This is the first time the honour, assigned every two years by the Viennese University for outstanding technological innovation in the automotive industry, has been awarded to a factory motorcycle.
The prize-giving ceremony was held on Friday 19 June at the Vienna University Festival Hall to commemorate the innovative genius of automobile pioneer Ferdinand Porsche (1875 –1951), Laurea Honoris Causa of the University of Technology of Vienna, and so reward European engineering excellence.
This year the prize went to Ducati and Dainese on account of the engineering innovation shown by both companies in a ground-breaking engineering project focused on improving safety.
Professor Bernhard Geringer, Director of the Institute of Automotive Engines and Technology of the University of Technology of Vienna and coordinator of the Professor Ferdinand Porsche Award organising committee, formally thanked Claudio Domenicali, Ducati Motor Holding CEO, who was present at the cefremony. He then handed over the 2015 prize to Federico Sabbioni, Head of Vehicle Project Management of Ducati Motor Holding. On receiving the award Mr. Sabbioni stated "It's an honour to represent the company at such an important ceremony. Ducati has always been committed to safety. Over the last ten years we've developed numerous systems for this purpose; from ABS, which today is a standard feature on all our motorcycles, and which is now available on the Multistrada 1200 complete with Cornering function, to Traction and Wheelie Control, as well as semi-active suspension. Passive safety is equally important when riding a motorcycle. Constructive, pioneering teamwork between Ducati and Dainese has led to the evolution of the D|air Street® System incorporated on the Multistrada 1200: it now includes a new algorithm that senses when the motorcycle is sliding out from underneath the rider and consequently activates the airbag. Moreover, the on-board system of sensors and control units has been developed together with the motorcycle to ensure quality and reliability. A huge step forwards for safety, then, but also an exceptional engineering achievement, the outcome of two brilliant companies with a strong R&D focus".
The new Multistrada 1200 S D|air is a milestone in terms of technological innovation and riding pleasure. It provides, as a complement to other as-standard bike safety features, an intelligent vehicle-integrated system that is wireless-connected to Dainese-made Ducati Apparel D|air airbag jackets. The Multistrada D|air system analyses the data and can inflate the jacket airbags (rider and passenger) in just 45 milliseconds, considerably reducing the risk of impact-related injuries. The Multistrada 1200 S D|air has TÜV SÜD certification, issued by the authoritative German body responsible for wearable airbag standards.
The 2015 version of the Multistrada 1200 S D|air will be available in European Ducati Dealerships starting from the end of July.