Borgo Panigale, 2015-06-15
• Exclusive licensing agreement for unique artworks to be extended a further 3 years
• The first official Ducati Art Club is launched: an exclusive portal containing the
huge collection of Ducati prints
• The first Ducati Reverse Blind Auction kicks off: purchasing Ducati artworks
through a reverse auction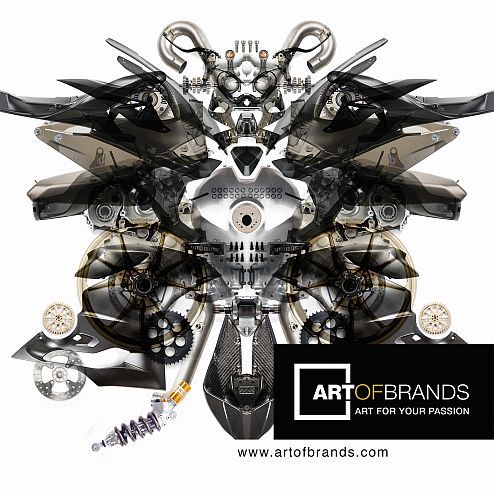 Ducati Motor Holding and ArtOfBrands, sole licensee for the exclusive and official Ducati artworks, are pleased to announce the signing of a new licensing agreement for Fine Art Prints. ArtOfBrands, founded in 2008, fast became a global benchmark in the market for high quality, affordable "Brand Art". "ArtOfBrands easily allows people to display their passion for Ducati and the Ducati Lifestyle as interior décor through affordable and spectacular artwork" said ArtOfBrands founder and CEO, Patrick Ashworth.
ArtOfBrands is also committed to discovering and supporting established or emerging artists from around the globe by organizing numerous invitational art competitions. Among the new artworks inspired by the Borgo Panigale-based motorcycle manufacturer, the ones selected are chosen for their ability to communicate the engineering genius, quality of design and passion for Ducati. These are then included in the ArtOfBrands catalogue. Thanks to the work of these artists, the Ducati Fine Art Prints collection grows constantly and stays up to date with prints relating to the new models, to the Italian manufacturer's successes on the racetrack and its history.
The recently created Ducati Art Club is a first of its kind (www.ducatiart.com) and as an exclusive portal, houses the colourful and varied art collection of the legendary Ducati brand. All new members automatically receive a 10% discount on all ArtOfBrands artwork and will receive a variety of offers and special deals. For those wishing to stay tuned to all the new artworks being featured, an instant notification service can be activated.
To mark the signing of the new agreement, ArtOfBrands is excited to introduce the first Ducati Reverse Blind Auction – a different way to bid for new Ducati artwork directly via the Artofbrands.com website. Whoever places the lowest bid wins the Ducati Reverse Blind Auction and receives the print free of charge to his or her home address. Visit www.artofbrands.com/wo-en/ducati/index/auction to view all the prints and check out the full auction details.