• Family members and friends join company employees in discovering
the Martorell facilities
• Everyone got to see how a car is made and take part in multiple
recreational activities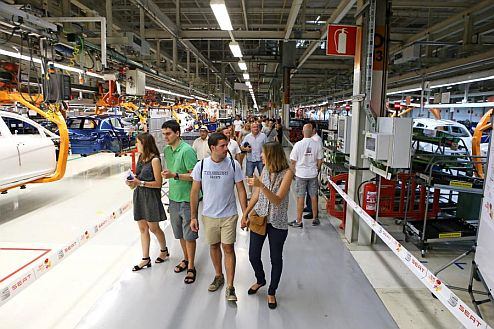 It's Saturday morning and Juan Manuel has woken up a bit later than usual. But he'll be heading to the same place as from Monday to Friday: the SEAT factory. Today, however, is a special day. He'll be joined by his family, who are going to get a look at where he works, and together they'll discover certain areas of the factory that even Juan doesn't know anything about.
As they pull up to the site, Juan Manuel calls their attention: "Everything you see up ahead is SEAT". "It's huge!" reacts his daughter Paula, wide-eyed. Once they're inside the factory, her father shows them his workstation in Assembly Workshop 10. "Wow, look at all the cars here!", exclaims his eldest son. He's only 8 years old but he knows what he wants: "When I grow up I want to work at SEAT". "He's been mad about cars ever since he was a toddler", explains Juan Manuel.
Like Juan Manuel and his family, thousands of people including employees, family members and friends have visited the Spanish carmaker's facilities this Saturday. "This event is very important to us because it strengthens the special ties that our employees, as well as their families and friends, have with SEAT", says Markus Schmaderer, who is responsible for Human Resources Personnel Development at SEAT.
In the Technical Centre, Damià stops with his daughter to take a look at one of the LED headlights in the light tunnel, where he works every day. "Dad, what lights do you make?", she asks. This employee proudly tells us that he was thrilled to show his daughter where he works. "I come to work here every day and it's really special to be able to share it with my family".
At the same time but a few kilometres away, Paint Workshop employee María's son is having fun with his dad playing slot cars in an area set up for small children to amuse themselves. Meanwhile, her 5-year-old daughter is busy finger-painting a car and happily exclaims "this is fun, mummy, when I grow up I want to paint cars, too".
Workers and their families come and go all day long. It's a hot day but nobody wanted to miss out on the factory immersion. The daredevils made their way to the Leon X-PERIENCE test drive area, where specialised monitors drove people around a dedicated course that mimicks different types of terrain. "It was great!", says Carlos' nephew Pedro. "What did you expect? This car can cope with anything!" proudly answers his uncle, who works in the Bodyshop.
Juan Manuel and his family are worn out. They've spent the last several hours exploring the factory and keeping the children happy on the trampolines, in the bouncy castles, and with balloon sculpture and face-painting workshops. But before returning home, they wanted to leave the chance to visit the office of the President, Jürgen Stackmann for the last minute. Paula climbs into his chair and informs everyone: "When I grow up I want to run a big company, too!" Juan's eyes light up. It's been a long, tiring day, "but it was well worth it", he admits.