Wolfsburg / Shanghai, 2015-06-15
• Opening in September 2015 at the YUZ Museum Shanghai
• China is an integral part of Volkswagen's global cultural engagement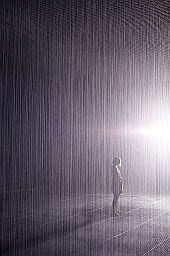 The YUZ Museum Shanghai in partnership with Volkswagen Group China will present Rain Room, a large-scale interactive artwork created by the British-German artist group, Random International.
One of the most extraordinary and popular art installations of recent years, Rain Room is a field of perpetually falling water that ceases to pour whenever a person walks. This unique environment unites human senses with nature and digital technology to create shelter within the torrential rain. Whilst providing an engaging experience that captivates visitors both young and old, the work also invites an exploration of the role that art, science, technology and human ingenuity can play in responding to ecological challenges. This presentation of Rain Room at YUZ Museum Shanghai inspired by an exhibition at the Museum of Modern Art (MoMA) in New York, organized by Klaus Biesenbach, Director, MoMA PS1 and Chief Curator at Large, MoMA, and supported by Volkswagen Group of America.
The 9,000 square meter YUZ Museum Shanghai, established by entrepreneur and influential art collector, Budi Tek, and designed by renowned Japanese architect, Sou Fujimoto, opened in May 2014 and is part of the non-profit YUZ Foundation. This organization promotes local and international contemporary artists and art exhibitions across the globe in addition to lending prominent artworks from its extensive YUZ Collection to leading art institutions worldwide. The aim of the foundation is to enhance public appreciation for contemporary art and promote artistic and cultural dialogue between Asia and the Western world. The Rain Room presented at YUZ Museum was especially commissioned for the YUZ Collection.
The announcement of the new collaboration between Volkswagen Group China and the YUZ Museum Shanghai on the occasion of the exhibition of Rain Room, builds on Volkswagen's global cultural engagement program, dedicated to increasing access to art and creativity for people everywhere, and now further extended with a China-specific program. Other worldwide collaborations include a multi-year partnership with the Nationalgalerie – Staatliche Museen zu Berlin and joint support of New York's MoMA and MoMA PS1 with Volkswagen Group of America.
"We at Volkswagen believe that everyone should have access to art and culture. That is why we engage worldwide with forward-looking cultural institutions also to add value to the company by inspiring our own creativity," explained Prof. Dr. Jochem Heizmann, Member of the Board Volkswagen Aktiengesellschaft as well as President and CEO Volkswagen Group China. "This is why we would like to thank Mr. Budi Tek, his YUZ Foundation and the YUZ Museum for the great opportunity to support this exciting art project with its premiere in China. The artwork Rain Room makes art a very emotional experience in relation to intelligent technology and the natural elements. It is creating a digitally-enabled emotional connection with the world around us, and evoking sustainability by making us think about precious resources such as water."