Herndon, VA, 2015-07-01
• June sales total 30,436 units, a 5.6 percent increase over June 2014
• The all-new Golf family of vehicles delivered 6,145 units, a 143 percent
increase, the best June for Golf since 2000
• Golf delivered 1,967 units for the month, a 227.8 percent increase
• Jetta sedan delivered 10,944 units, a 8.3 percent increase
• Tiguan delivered 2,604 units, a 7.8 percent increase
• High-mileage, TDI® Clean Diesel models accounted for 24 percent of sales in
June – the highest TDI mix since April 2014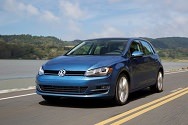 Volkswagen of America, Inc. (VWoA) today reported sales of 30,436 units delivered in June 2015. The all-new Golf family of vehicles continued to find success in the market. In June, Golf family sales totaled 6,145 units.
"We continue to see strong results from the Golf family, delivering the best June in 15 years. Diesel also proved its strength this month with more than 24 percent of our sales," said Mark McNabb, chief operating officer, Volkswagen of America.
The Chattanooga-built Passat totaled 6,984 units delivered for the month. Volkswagen recently introduced the value laden Limited Edition model, which has a starting MSRP of $23,995.
The Jetta, which was refreshed for the 2015 model year and has a suite of available driver assistance features, continued to show its strength as a core model, with 10,944 units delivered, an 8.3 percent increase over the previous June. This month Volkswagen unveiled the latest model, the 2016 Jetta GLI, the performance version of its best-selling car. The newest edition of the GLI offers new infotainment features as well as a bold, sporty look for the 2016 model year and will hit showrooms later this summer.
The Touareg, refreshed for 2015, delivered 561 units: 328 of these were TDI® Clean Diesel models, amounting to 58.5 percent of its sales. The Tiguan delivered 2,604 units, marking a 7.8 percent increase over the previous June.