Martorell, 2015-06-17
• An app that helps drivers find a parking space and prevent urban traffic congestion
is one of the Creative Lab projects
• This initiative is a collaboration effort between the School of Engineering of Terrassa
at the UPC, the Volkswagen Group and SEAT to come up with ideas for
improving urban mobility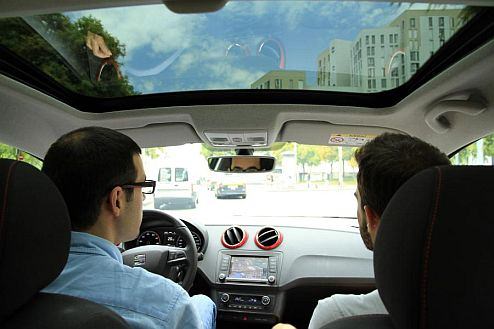 Eduard and Miguel feel very proud for finishing the biggest project they have ever worked on in their time as engineering students – designing a system to help drivers reduce the time it takes to locate a parking spot which, according to several studies, accounts for 15% to 30% of traffic patterns in cities like Barcelona.
Both of these students of the School of Engineering of Terrassa at the Universitat Politècnica de Catalunya have successfully participated in the Creative Lab project, an initiative promoted by the university, the Volkswagen Group and SEAT to develop projects that help improve urban mobility. It has been an excellent opportunity for them to gain exposure in the business world: "It's been great working side by side with the SEAT engineers and getting their help with designing our proposals", said Eduard, who has just recently graduated in engineering.
Of the 83 students who applied to participate in the project, the university selected the 30 most deserving to form part of the six interdisciplinary groups that collaborated on this initiative. That is how Eduard and Miguel were able to develop their project, an idea that they say "will help drivers reduce driving time and fuel expenses and contribute toward preserving the environment since they will be spending much less time driving around looking for an available parking space". With innovative systems like this, these students are focussed on making urban traffic more fluid.
It has also been an enriching experience for SEAT, who is committed to generating new ideas with this talented group of students. "For us it's a good way to stay in tune with the world of higher education and also benefit from the creativity of young engineers", said Santi Castellá, the person responsible for electro-mobility projects at SEAT and one of the people who has been supporting the work of the different groups of this creative workshop at all times. "The experience has been very positive and the results have exceeded our initial expectations", commented Castellá.
Likewise, for Núria Garrido, assistant director of the School of Engineering of Terrassa at the UPC, who coordinated the project, this is a unique opportunity for students to get a taste of what it's like to work in the business sector and she pointed out how important it is for young people to get involved in designing their concept of city cars: "SEAT gave the students full creative freedom and the results have been very interesting proposals that I'm sure we'll see in cars of the future", added Núria.