• SEAT aligns with the Ministry's Strategy for Entrepreneurship and
Youth Employment
• The Minister learned about the company's dual VT programme
• SEAT will hire 48 young workers next 22 June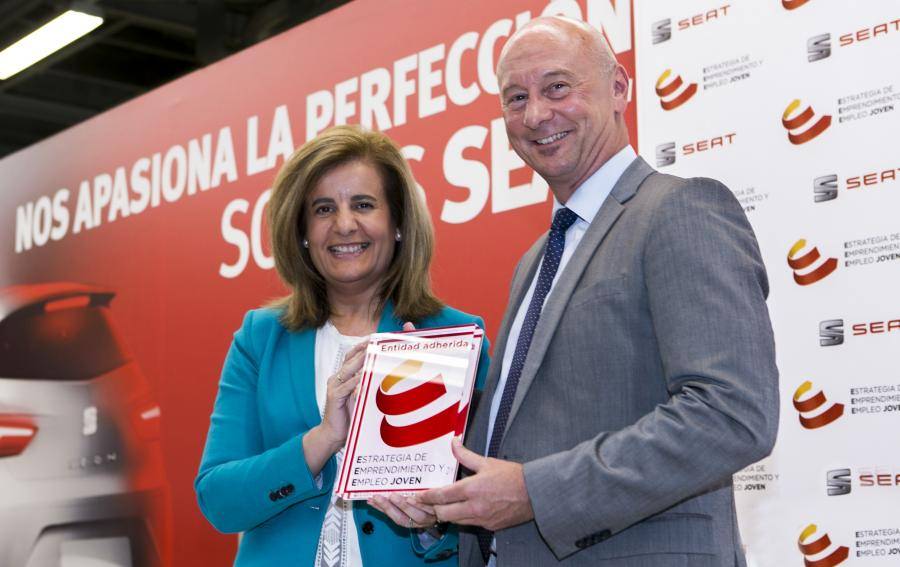 Spanish Minister for Employment and Social Security Fátima Báñez today visited SEAT's Martorell facilities to learn more about the company's efforts in human resources, and especially, in promoting the training and hiring of young people. Báñez acknowledged the carmaker's progress through by subscribing to the Ministry's Strategy for Entrepreneurship and Youth Employment, a distinction awarded to companies and institutions that promote activities to facilitate young people's access to the job market.
The Minister expressed her gratitude to SEAT's for its commitment to youth employment and for supporting the Strategy for Entrepreneurship and Youth Employment, whose measures "have already benefitted 408,000 young people and have enabled channelling the initiatives of 887 companies and entities, amounting to 760 million euros". "I appreciate that SEAT, which has been a symbol of modernisation in Spain, today represents a benchmark in the job placement of youth through dual Vocational Training programme".
Furthermore, SEAT Vice-President for Human Resources Josef Schelchshorn announced that "SEAT will hire the 48 young people who are currently in their third year of dual VT". Schelchshorn underlined "the value of dual training to acquire a solid background and professional qualification" and pointed out that with "these recruitments we once again endorse SEAT's commitment to young people's training and professional development". Ranging in age from 19 to 23, the company will be hiring the students with an open-ended contract as of next 22 June, and they will join the 1,900 workers SEAT has added to the workforce since 2009.
SEAT implements a wide range of programmes aimed at young people, among which their dual VT has been a prominent feature since the 2012-2013 course. It is based on the German system and puts equal emphasis on theory and practical training in SEAT's Apprentices School and the brand's production facilities. SEAT offers three years of training with a total of 4,625 teaching hours and the theory content is based on Middle Grade training. All the students have an apprenticeship contract and receive monthly remuneration. SEAT has received more than 1,000 applications for 75 openings for the first year of the upcoming 2015-2016 course. In addition, the company is moving forward with the selection process of 100 engineers for the Technical Centre. To date, a total of 43 have already been hired, averaging 30 years old.
Visit to Spain's leading factory in the car industry
Fátima Báñez was joined on her visit of the Martorell factory by SEAT Vice-President for Human Resources Josef Schelchshorn and Vice-President for Government and Institutional Affairs for SEAT and the Volkswagen Group in Spain Ramón Paredes. During her visit, the Minister toured Assembly Workshop 10, where SEAT's two best-selling models are assembled – the Leon and the Ibiza, learned more about some of the latest technology applied to this workshop and expressed interest in the production of the new Ibiza, which began in the last week of May.
They then moved on to the Maintenance area in Workshop 10, where the Minister spoke with a group of third-year students of the SEAT Apprentices School who are participating in the dual VT programme and will become part of the workforce starting next 22 June.
Martorell is the Spanish factory with the highest vehicle production: 2,100 units every day, or one every 30 seconds. In the first five months of this year, production at the factory went up by 10.6% to 220,500 vehicles. SEAT's worldwide sales increased by 8.6% during this period, reaching 176,400 units.