Crewe, 2015-05-27
• 1,285 people apply for Bentley's largest apprentice intake in 25 years
• Assessment centres throughout summer, leading to September start
• Job creation by Bentley grows to over 1,000 in past two years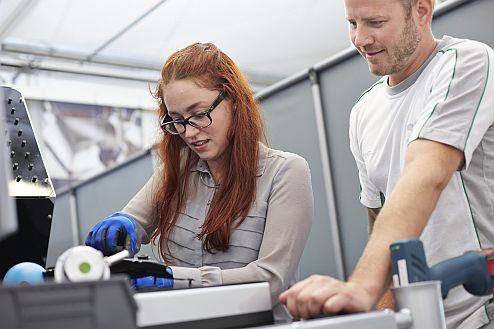 After announcing the company's largest apprentice intake in 25 years, Bentley has received more applications to join the programme than ever before. 1,285 people applied for 63 positions, with the successful candidates starting the three-year scheme in September.
The second stage of the recruitment process begins now, with assessment centres and interviews taking place throughout the summer.
40 of the apprentices will be working on a newly developed manufacturing programme. A dual education system of learning, 70 per cent of time is dedicated to practical training delivered by Bentley master trainers, themselves with combined industry experience of over 100 years. The remaining 30 per cent of time will be devoted to theoretical learning within chosen professional areas.
A further 23 apprentices will be based in business areas at Bentley's global headquarters in Crewe, including Engineering, Sales and Marketing, Purchasing and Human Resources.
Marlies Rogait, Member of the Board for Human Resources at Bentley, said: "There has never been a better time to join Bentley. We are the number one luxury car brand in the world and still growing, investing in our cars, our site, and our people. This is why interest is so high in our apprenticeship programme. It's much more than three years, it's a career, offering invaluable experience throughout, and then a pathway to a structured future. We look forward to welcoming the new recruits in September."
These 63 new apprenticeship positions mean Bentley has created over 1,000 jobs in the past two years. The company was also recently named one of Britain's top employers by the Top Employers Institute for the fourth consecutive year. Bentley was awarded for its commitment and dedication to the 3,800 colleagues working at the Crewe headquarters and was particularly praised for its focus on the talent and personal development of its workforce.
To support the company's future investment in its employees and the community, Bentley is also playing a pivotal role in bringing a University Technical College to Crewe. Focused on Engineering and Design, the college will offer an inspiring education for 14-18 year olds seeking a pathway to future employment.