New York City / Wolfsburg, 2015-06-27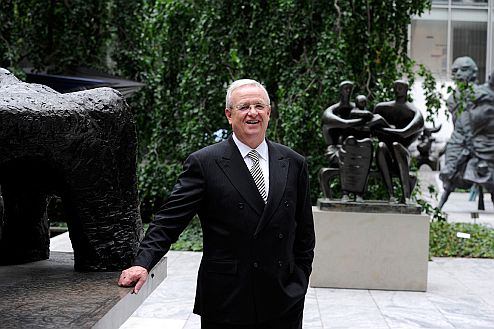 At the Annual MoMA PS1 Gala Benefit , Prof. Dr. Martin Winterkorn, Chairman of the Board of Management of Volkswagen Aktiengesellschaft, was honored on behalf of Volkswagen for his contribution to promoting international arts and culture. The event took place in New York City on Thursday night.
In his laudatory speech, Glenn D. Lowry, Director of MoMA, emphasized the instrumental role played by Volkswagen under the management of Dr. Winterkorn, in the support of initiatives to increase public access to arts and culture globally. He also referred to Volkswagen's significant contribution to the development and realization of the exhibition EXPO 1 New York, which addressed the critical issues of ecological and social changes and which was shown in 2013 and 2014 with Volkswagen's support in New York and Rio de Janeiro.
"For Volkswagen, working with leading cultural institutions like MoMA provides fresh impetus on important questions: What is our vision for the world of tomorrow? What must a company like ours contribute to a dynamic society? And how do we drive change? We are delighted that our commitment helps to provide a wide-ranging international audience with access to arts and culture, as it is a perfect reflection of Volkswagen's ideas", Dr. Winterkorn said in New York.
"More than 80 years ago, The Museum of Modern Art was founded with the idea that modern art should accessible to all people. This philosophy has guided us since then, even as we have entered a technological age. Throughout its activities in the fields of arts and culture, Volkswagen has shared this belief, and we highly appreciate Dr. Winterkorn's active role in fulfilling this corporate commitment", said Glenn D. Lowry.
The Benefit Dinner was attended by around 250 guests including Wes Anderson, Thomas Demand, Yoko Ono, Mika Rottenberg, Taryn Simon, and generated funds for MoMA PS1's future exhibitions. In the frame of the evening, MoMA and MoMA PS1 also honored artists Cindy Sherman and Mickalene Thomas.