• Close to 70 MBA students from IESE brainstorm the car of the future
• The city of Barcelona is chosen as the focal point of the study
• A SEAT car is equipped with more than 50 sensors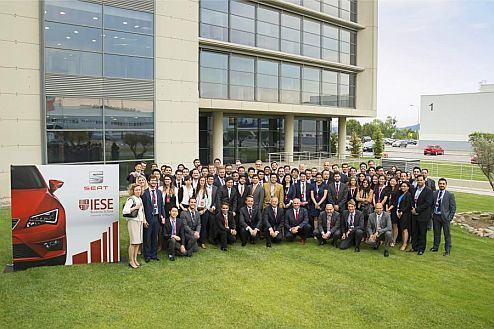 Almost 70 students from the IESE Business School's MBA program are participating in an innovative experiment proposed by carmaker SEAT to analyze the future of urban mobility. The approach is to develop ideas and proposals of collaboration between Smart City projects and SEAT and Volkswagen Group cars.
The initiative is an exercise in fact-finding and analysis that will take place in the last quarter of the Operations Strategy course included in the IESE MBA program. The students will have to defend their project in front of a panel of SEAT executives at the company's headquarters in Martorell as part of their course requirements, and their scores will count towards obtaining their MBA degree.
SEAT President Jürgen Stackmann underlined that "we are investing in cutting-edge R&D talent as the key to our future success. Our commitment to talented youth involves promoting a diversity of training programs, including this collaboration with IESE, which is one of the best business schools for executive training programs worldwide".
One of SEAT's work proposals for the IESE students consists in evaluating the viability of using the existing sensors in the entire range of SEAT cars, as well as Volkswagen Group cars, as a data collection source, with customer consent, and making it available to public administrations to facilitate their work on Smart City initiatives. To this end, SEAT has established as the geographic focal point of study the city of Barcelona, as it is one of the world's leading Smart Cities according to Juniper Research 2015.
Smart cities significantly increase the quality of life in urban areas. Using Big Data efficiently and intelligently in real time is a key aspect of Smart Cities, aimed at reducing, for example, energy consumption, pollution, noise, air quality or traffic flow by increasing the efficient use of available resources and infrastructure. The idea is to interact and obtain benefits arising from the connection between car-city data/city-car data in favor of mobility and building a more sustainable city.
The MBA students from IESE will be working in a total of nine groups. Their goal is to research, analyze and develop conceptual and theoretically plausible models to evaluate the potential of new opportunities that contribute to the development of solutions for urban mobility. To achieve this goal, the company has issued the guidelines for the project, with particular emphasis on increasingly high profile car sensors. A SEAT vehicle is currently equipped with over 50 sensors and many cities, like Barcelona, also feature a massive rollout of sensors, all of which are connected to mobile networks.
IESE is one of the world's most international business schools, with campuses in Barcelona, Madrid, New York, Munich and São Paulo. Consistently ranked within the top ten worldwide, IESE has pioneered business education in Europe since its founding in 1958 in Barcelona. IESE seeks to develop business leaders with solid business skills, a global mindset and a desire to make a positive impact on society. The school distinguishes itself in its general-management approach, extensive use of the case method, international outreach, and emphasis on placing people at the heart of managerial decision making. With a truly global outlook, IESE currently runs programs on four continents.