• Sales for the month rose 8.3% to 18,262 vehicles
• Third-best sales month in Audi of America history
• Demand for Audi SUV models increased 24.1% for the month
Audi reported that its June 2015 sales increased 8.3% to 18,262 vehicles, a total that stands as the third-best monthly result ever in the U.S. market.
Audi also achieved its best-ever June sales in the U.S., marking the 54th consecutive month-over-month sales record. The previous June record was set in 2014 with 16,867 Audi vehicles sold. Through the first half of 2015, Audi U.S. sales rose 11.0% to 93,615 vehicles from the year-earlier period.
"Audi is seeing stronger demand than ever before," said Mark Del Rosso, Executive Vice President and Chief Operating Officer, Audi of America. "This is the result of the best lineup we've ever enjoyed across the board. And with the launch of the Summer of Audi Sales Event attracting even more premium car buyers to our showrooms, we expect to continue building greater momentum in the months ahead."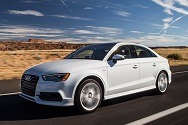 The A3 model line achieved record sales in June with a 42.0% increase over June 2014 sales. The A6 and A8 models also performed well, with year-over-year increases of 11.0% and 10.6%, respectively.
June represented strong demand for Audi luxury SUVs, with a 24.1% increase in sales encompassing the Audi Q3, Q5 and Q7 models. The Q5 posted a 6.1% increase from last year, while the Q7 posted a 14.1% increase from last June.
Audi Certified pre-owned vehicle sales also set a new June record, with a 14.4% gain on 4,176 CPO vehicles sold. CPO sales year-to-date have increased 9.3%.
Audi holds the longest running monthly record sales streak in the premium car market according to a competitive sales report from MotorIntelligence.com.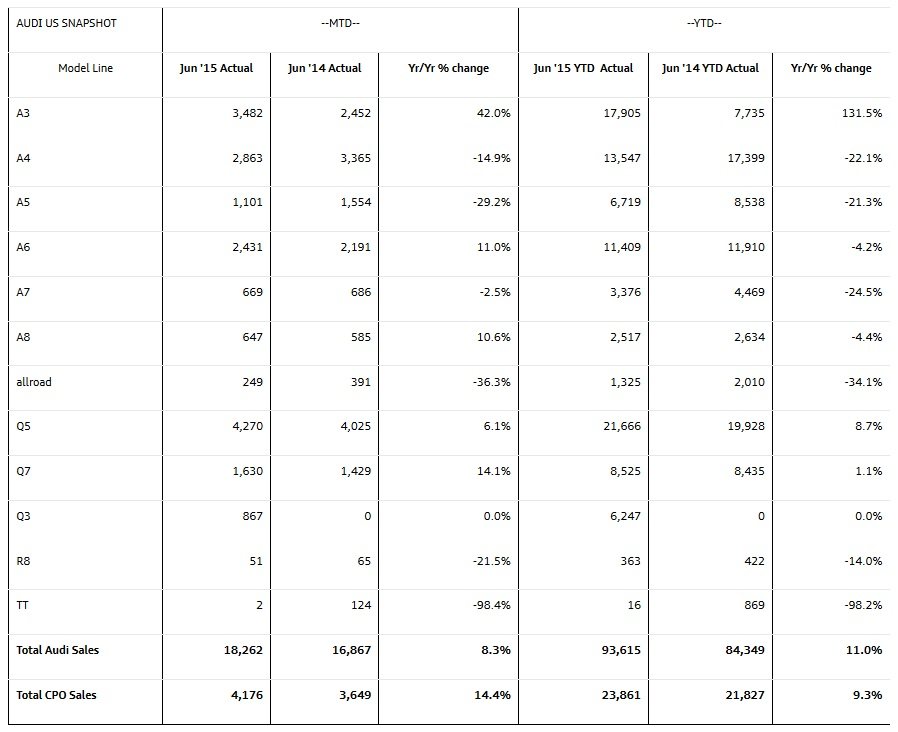 NOTES:
– A3 includes A3 Sedan, S3 Sedan and A3 Cabriolet.
– A4 includes A4 Sedan and S4 Sedan, but does not include Audi allroad.
– A5 includes A5 Coupe, S5 Coupe, RS 5 Coupe, A5 Cabriolet, S5 Cabriolet and RS 5 Cabriolet.
– A6 includes A6 Sedan and S6 Sedan.
– A7 includes A7 Sedan, S7 Sedan and RS 7 Sedan.
– A8 includes A8 Sedan, A8 L Sedan and S8 Sedan.
– Q5 includes Q5 and SQ5.
– R8 includes R8 Coupe and R8 Spyder.
– TT includes TT Coupe, TTS Coupe, TT Roadster and TTS Roadster.